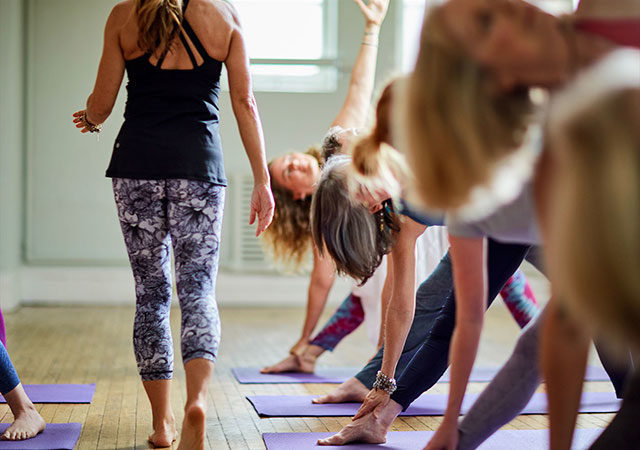 Sequencing Shakti: Yoga and Ayurveda in the Classroom Training
CEs with Yoga Alliance, IAYT: 46 (36 contact + 10 non-contact)
The Sequencing Shakti training combines the wisdom traditions of Yoga and Ayurveda together on the mat. Open to yoga teachers and dedicated students, the ancient and time tested principles of Ayurveda inform Yoga's asana, pranayama, and meditation sequencing to produce more mindful, therapeutic, and/or transformative outcomes. Whether your intention is to work with Yoga and wellness privates, teach classes, or make your own Yoga practice more personalized, grow and understand the HOW and the WHY behind the tools to shape beneficial, balanced, and inspiring practices for yourself and your students.
Upcoming Sequencing Shakti: Yoga and Ayurveda Trainings
FEBRUARY / MARCH 2024

Weekend Format - LIVE + Livestream

LIVE + Livestream. Zoom details will be sent out a day before the workshop.
Save $100 if you enroll by Jan 9!

CEs with Yoga Alliance, IAYT: 46 (36 contact + 10 non-contact)

Dates: 2 Weekends: February 9-11 & March 8-10, 2024
Time: Fri: 6pm-9pm & Sat/Sun: 9am-6pm (Central US Time)
Teachers: Tanya Boigenzahn & other Devanadi Faculty
Cost – Regular Students: $695 ($795 after Jan 9, 2023)
Cost – Devanadi 340hr TT Alumni: $645 ($745 after Jan 9, 2023)
Payment Plan: Contact us for details

2 UNITY Scholarships available. Contact us to apply.

Replay: Video streaming access of entire course for 6 months after the course ends. Audio downloads of PRACTICES are available for purchase for $75 from Devanadi post training. Cost includes stick figures of all practices.


Please read our Cancellation Policy below before registering.

SIGN UP
About Sequencing Shakti: Yoga and Ayurveda Training
In the Sequencing Shakti training, you will gain the knowledge of the HOW and WHY in sequencing your yoga classes and practices. We will deconstruct the tools and help you understand how they fit together to help you design complete practices – asana, pranayama, meditation – that express and embody a theme using principles from the sacred rivers of Yoga, Ayurveda, and Tantra. Sequencing in this way not only gives you more control over the desired outcome for your students, but also allows the flow of the class or practice to embody holistic, therapeutic, and inspiring effects for body, mind, and spirit.
Explore the fundamentals and methods to increase effectiveness and efficiency in your teaching. Learn how to address specific needs of your students holistically, maximizing the biomechanics and energetics of your classes and personal practice.
This is great training for yoga teachers who learned to memorize a particular sequence and lacked the training on sequencing yoga classes, and/or dedicated yoga students who want to know how to create their own yoga practices.
Led by Tanya Boigenzahn, an Ayurvedic Yoga Therapist, Reiki Master, Certified Healing Touch Practitioner, and Thai Yoga Bodywork Teacher/Therapist, brings not only her feminine and intuitive energy to this training, but also infuses the work with tips, tools, and holistic recommendations for you and your students.
Topics Covered
Roots of Samkhya Philosophy – the foundation of Yoga and Ayurveda
The 5 Elements and how the combine to create the 3 Ayurvedic Doshas
Discovering your current Ayurvedic Dosha constitution based on 7 types
The 5 Prana Vayus – application in asana, pranayama and meditation
The 3 Gunas – Sattwa, Rajas & Tamas – and how yoga techniques effect your energy and mind
Understanding spinal energy and positioning in relation to asana's effects
Learn to become more efficient and effective in the expenditure of your precious energy
How to design safe and effective classes, one-on-one sequences, and personal practices to help balance Ayurvedic dosha, Prana Vayus, etc. with an arc to warming up, building, expression, and resolve
The biomechanical, energetic, and mental effect of a large variety asanas
How to open access to safely build more challenging poses over time
How to pair pranayama with asana as well as prep for meditation
Sequencing the tools to energize your positive intentions around your life and aspirations
Apply and embody the Teachings with sequencing exercises, practice teaching, as well as group and personal activities
Pre-requisiteS
Open to all dedicated Yoga practitioners, Yoga Therapists, Meditation practitioners of different lineages, Ayurveda professionals. Some yoga experience recommended.
REQUIRED Reading
It is recommended that you read the books before the training begins. For those of you interested in CEs with YA or IAYT, the reading and its corresponding book quiz is mandatory.
Want Continuing Education (CE) credit?
CEs: 46 with Yoga Alliance for RYTs and IAYT for Certified Yoga Therapists.
To earn CEs, students must attend all scheduled contact hours (or turn in notes from missed hours) and complete a book quiz assignment due 40 days after course to earn CE Cert. This is an optional requirement and not necessary to take the course unless you want to. Certificate of Completion emailed upon completion.
Training Includes
This is a stand alone training, as well is part of the 340hr Yoga Teacher Training at Devanadi.
Manual for course
Detailed stick figures of all practices
Certificate of Completion and 46 CE's from Yoga Alliance and IAYT (36 contact hours, 10 non contact hours) – optional
40 day Check-In for guidance and support
Video streaming access of the course for 6 months after the course ends
Audio recordings of practices are available for purchase for $75 post training
Notes:
Please read our Cancellation Policy below before registering.
Please bring your yoga mat and props, and something to sit on if needed.
Please also bring a notebook and pen.
Lunch break is 1.5 hours per day. There are many local restaurants nearby, or bring a lunch as we have a kitchen on-site.
SIGN UP
Registration & Cancellation Policies:
Cancellation Policy: No refunds. This training requires 2 week notice of cancellation by phone or email. You will receive a studio credit, less $100 cancellation fee. If you cancel within 2 weeks of a training, payment is forfeited, and no studio credit will be given. No shows will receive no credit. Cancellation must be received by Devanadi by phone or email.
Early Bird Payment Details: Pay in full by the early bird date to receive the early bird pricing or your registration will be updated to reflect the regular pricing.
Payment Plan Notes: YOU MUST SIGN UP ON A COMPUTER (not a phone/device) to enroll due to MindBody Online payment options restrictions. Sign up before Early Bird Date to use the Payment Plan, otherwise all payments must be in full.
SIGN UP