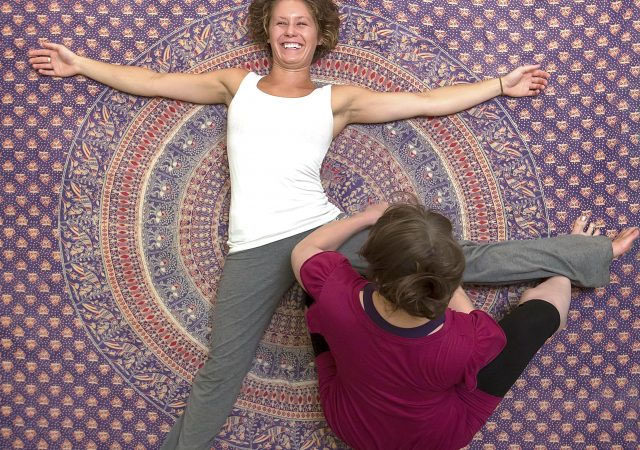 Based on traditional Thai Massage (Nuad Boran, or "ancient massage"), Thai Yoga Bodywork is a sacred healing treatment that integrates Traditional Thai Medicine, elemental theory, and Buddhist spiritual practices.
Cost: $100/hr – 60, 75, 90 and 120 min available
Package discounts available
Location: Devanadi Yoga – 4401 Upton Ave S, Minneapolis, MN 55410 – free parking in lot
Appointments: Fill out the form below
What is Thai Yoga Bodywork?
Unique from other types of bodywork and massage, Thai Yoga Bodywork also combines rhythmic massage, assisted Yoga poses, acupressure along pathways of movement in the body known as the "Sen," healing energy work, and meditation. The first spiritual roots of this ancient system date connect to over 2,500 years ago at the time of Buddha in India, and were carried through the Buddhist teachings into SE Asia. These teachings merged with traditional therapies of the region at that time and because what we now call today "Traditional Thai Medicine."
Open to anyone, we are also are known for working with pre/postnatal women and highly recommend this work during that time. Devanadi Thai Yoga Bodywork also specializes in combo work with Energy Work. This transformative therapy works with the body directly in the Thai Yoga portion, and infused an even deeper sense of calm, grounding, and ease upon completion with the Energy Work. Great for people with chronic issues that never seem to heal, or try it as a way shed old patterns in body, mind and spirit.
All sessions are clothes-on. The intention of each session is always for the client's highest good of balancing their energies of the body, mind, and spirit. All of our practitioner follow the Code of Ethics put out by the Thai Healing Alliance International (THAI).
Services Available
Classic Thai
Recommended length: 90-120 minutes for full body experience
This is the stuff that Devanadi Thai Yoga Bodywork is known for! This clothes-on, one-on-one therapeutic session aims at stimulating the flow of healing energies within the body, opening the areas which are blocked and bringing the body, mind and spirit back into balance and harmony. Whether you have a yoga practice or not, this healing therapy will leave you feeling refreshed, rested, and alive. Our practitioners specialize in MS, fertility issues, fibromyalgia, neck/back pain, and more. All sessions are personalized for YOU based on your health intake as well as assessments done at the time of the appointment.  Make an appointment today!
add on Energy Work/Reiki
Often our Thai Yoga Bodywork therapists will infuse your session with Energy Work such as Reiki. However, if you would specifically love to have this bonus in your session, please note this when inquiring about scheduling an appointment.
Thai Pre/Postnatal
Recommended length: 60 – 75 minutes for all stages of pregnancy or 60 – 120 minutes post-pregnancy. Energy work is highly recommended as an add-on.
Prenatal Sessions
Treat your mama right! As above but we'll work specifically with a pregnant woman's aches and pains (i.e. sciatic, low and mid back issues) while restoring a sense of rest and well being. Propped up on pillows and bolsters, or laying on her side, we'll work the feet, legs, hips, back, shoulders and neck in a nurturing way to support this time in her life. Sessions can also help initiate labor (38 weeks and up only) with specific acupressure techniques.
Postnatal Sessions
This special Thai Yoga session treats new moms in their recovery from the transition from pregnancy to motherhood. Specifically designed out the knots in the upper back and shoulders from breastfeeeding and/or holding baby, as well as a long hip and back sequence to help adjust the pelvis and spine from the physical stresses of pregnancy. Also work with the stomach to improve muscle tone, restore hormonal balance and create a sense of emotional well being. Recommended for women 4-6 weeks postpartum. Please get a doctor's ok before the session.
Thai Yoga Bodywork w/Ayurvedic Yoga Session
Recommended length: 120-240 minutes
Work with certified Thai Yoga Bodywork & Ayurvedic Yoga Therapist Tanya Boigenzahn, in this complimentary yoga approach that mixes the best of assisted yoga therapy from Thai Yoga Bodywork with the vast riches of yoga in one session.
As you move through yoga poses, we will adjust with Thai Yoga Bodywork techniques to blossom open and/or strengthen your pose. Plus gain assistance in defining a yoga practice suitable for your body and experience.
We'll explore your doshas (Ayurvedic Constitutions), vayus (pranic forces), gunas, chakras and more. Plus get knowledge on how to work with your range of motion, injuries, fears, and triumphs to create a great healing program just for you.
Request an Appointment Today