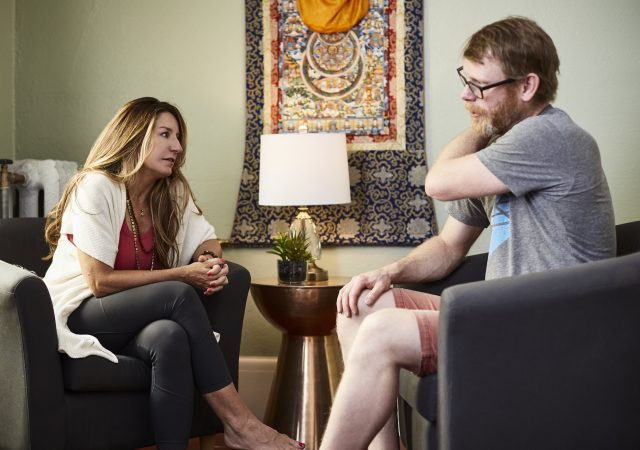 In these personalized yoga private sessions, your teacher works with a variety of holistic, diagnostic and intuitive tools to discover your imbalances and help bring you back into well being. Or come in to help tweak your poses and breathwork to deepen, adjust and support your practice.
Rates: Vary by teacher – Package discounts available
Location: Devanadi Yoga – 4401 Upton Ave S, Minneapolis, MN 55410 – free parking in lot
Appointments: Fill out the form below
Services Available
Ayurvedic Yoga Sessions
Have you ever wanted your own personal Sadhana? In this therapeutic session, your yoga teacher works with a variety of diagnostic and intuitive tools to discover what imbalances you have (vikruiti) and help bring yourself back into balance (prakriti) with this holistic and ancient way of using yoga.
Learn what yoga poses help balance your dosha, as well as proper breathing techniques, meditations, and more. Our Devanadi teachers focus in each session is to help students find their Sva Dharma (individual destiny) through use of Ayurvedic principles, Vinyasa Krama (proper sequencing), Tapas (purification & discipline), Smarana (rememberance of the self) as well as breath awareness, energetic alignment, and ancient tantric hatha yoga techniques including kriya, bandha, chakra work, mudra, and mantra practices.
Many of our teachers also specialize in Thai Yoga Bodywork, which is deeply rooted in Indian Ayurveda, she will recommend acupressure points, passive bodywork stretches, and mindfulness techniques.
Sadhana is a Sanskrit word meaning "spiritual exertion towards an intended goal." It's typically used to describe the things you do in your spiritual practice. However, knowing where you are out of balance and what can bring you back into balance may be difficult to discern with limited practice and knowledge of yoga. It's helpful to develop a relationship with a yoga teacher to help you grow, be nurtured and guided on your path towards well being.
Traditional Yoga Privates
Work one-on-one with a certified yoga teacher to create your unique yoga practice that may include the following: yoga postures, pranayama, mudra, kriyas, mantra and meditation techniques especially for your body and mind's needs and goals. Learn what yoga poses help balance your dosha, as well as proper breathing techniques, meditations, and more. Help uncover the secrets to not only a successful yoga practice, but can also help you eliminate habits in your body, mind and spirit that keep you from feeling your best.
For Beginners: Get started with yoga. Learn proper breathwork, basic yoga poses, and meditation techniques. Depending on your goals, work on stress relief and relaxation, or kick-start your practice with a detoxifying and health-conscious flowing practice.
For Intermediates: Tweak bad habits and move forward. Start working towards inversions and deeper poses that include backbending and binds, breathing and meditation techniques. The sky is the limit!
For Advanced: Now that your body has less resistance, move forward to a consistent yet more intense practice to open those hard to reach spots. Choose also to bring in more of the ancient yoga teachings with studies on yoga philosophy, assigned readings, and more subtle techniques of the asana practice such as mudra, bandha and visualization.
Request an Appointment Today