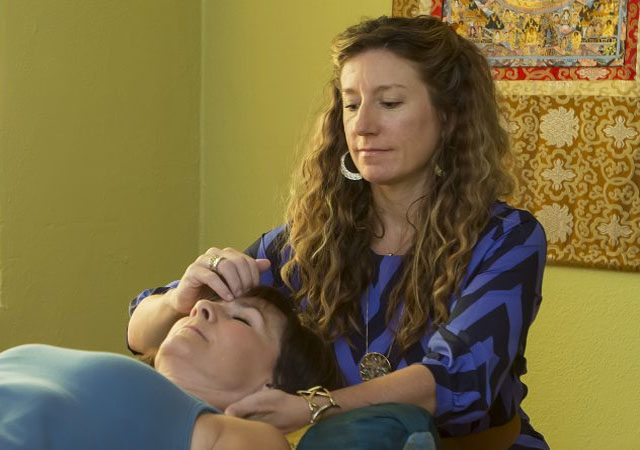 Reiki, Healing Touch and Energy Work are biofield therapies benefit the physical, mental, emotional well being and healing.
It uses touch to influence the human energy system, specifically the energy field that surrounds the body, and the energy centers (chakras) that control the energy flow from the energy field to the physical body. Our therapists are multi-certified in a variety of Energy Medicine modalities such as Healing Touch, Reiki Master, Seichem and Qi Gong. Each session uses techniques of some or all modalities in each client session depending upon the needs of the client.
Pati's Sessions: $100 for 60 minutes or $135 for 90 minutes
Tanya's Sessions: $125 for 60 minutes or $450 for package of 4 hours
Location: Devanadi Yoga – 4401 Upton Ave S, Minneapolis, MN 55410 – free parking in lot
Appointments: Fill out the form below
Combo sessions combining Energy Work with Thai Yoga Bodywork are also available and highly recommended.
Your Session May Include:
Energy Work: Healing Touch, Reiki Sessions
A typical Energy Work session may combine non-invasive techniques from Healing Touch, Reiki, Seichem, Qi Gong, or other healing energy modalities. By using the hands and setting the intention for the highest good of the client, this energy (biofield) therapy clears, balances, and charges the entire physical and energetic being with positive healing energy and restores a sense of deep peace and well-being.
Energy work has been shown to be beneficial for pre/post operative procedures, cancer therapies, pain management, stress reduction, life-path decisions, fertility issues, autoimmune disorders and more.
Chakra Balancing
A short sequence of hands-on-healing that balances, connects and revitalizes the chakras, charka balancing is fabulous as a way to integrate the physical clearing of bodywork with the subtle clearing of the energy body.
Gemstone Therapy
Stones are laid directly on a client's chakras or other areas depending on the needs of the client. Therapist then works with your energy field and the stones to bring you a sense of balance and soothe your soul.
Request an Appointment Today