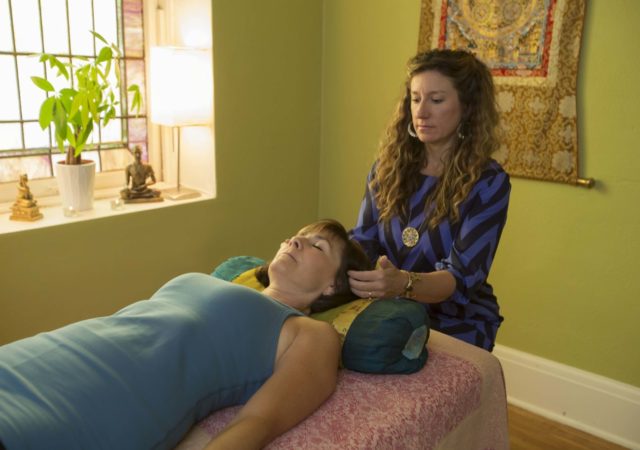 Have you wanted to learn energy work tools, but don't know where to start? Are you curious about the chakras, meridians (energy lines) and the biofield? What is it like to sense energy?
These workshops are not only an introduction to energy work and the subtle anatomy, but also a Reiki training class that will give you the tools and techniques to begin your self-care and care for others practices.
Our Reiki 1 trainings are perfect for exploring Reiki SELF CARE and basic techniques you can use at home and/or with your family.
Upcoming Reiki 1 Trainings
NOVEMBER 2023

Saturday, Nov 4

THIS IS A LIVE (In-person) class.

NOVEMBER 2023
When: Saturday, November 4
Time: 9:00am – 4:30pm
Teacher: Pati Richards, AYS, ERYT 500, Reiki Master
Location: Devanadi School of Yoga & Wellness (Lake Harriet Spiritual Center – 4401 S Upton Ave, Mpls, MN 55410)
Cost: $200; or take Reiki 1 and Reiki 2 (Dec 9) for $375

*This training will be LIVE (in-person) ONLY. Students will not be able to participate virtually.

Manual, Attunement, and Chakra Meditation Recording included in cost.
Program Overview
Training Includes
History of Reiki & energy medicine
Attunement: an initiation that opens one's access to the flow of Reiki or earth energy

Attunement to Reiki I is given to all students with follow-up assignments to help you grow your connection to energy, as well as your ability to heal. No experience necessary.

How to use Reiki for oneself
Overview of the chakras, meridians (nadis), and biofield (aura)
Intuition building exercises
How to assess the energy body
Prerequisite
None. Just an open heart and mind.
Notes
Drop-ins not allowed.
Class size limited to 12 students. Register early as our trainings often fill.
Please bring a notebook and pen.
Please read our Cancellation Policy on the Sign Up Page before registering.
Email us if you would like details on when we schedule another Reiki I Training. More dates on their way!
Cancellation Policy
No Refunds. For Reiki trainings, payment in full reserves your space. If you cancel more than 2 weeks prior to the beginning of the training, your payment, less a $50 cancellation fee PER TRAINING, will be credited to your account. If you cancel less than 2 weeks prior to the beginning of the training, you forfeit your payment.