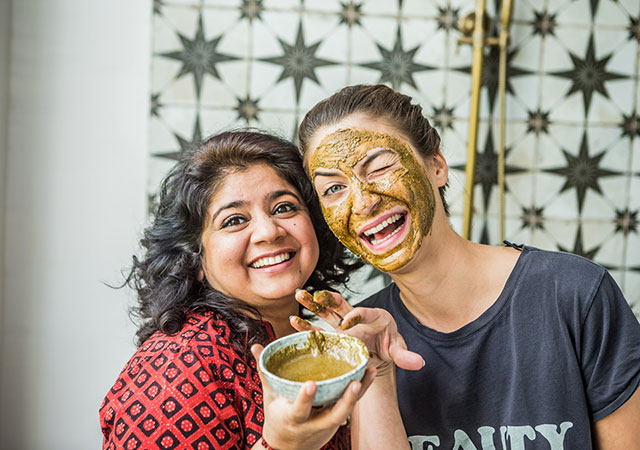 Self-Care Series: Beautify
with Indu Arora
Heed the primordial call of self-care! We owe self-care to ourselves. In this 3-part series with Indu Arora, explore how to beautify the body, emotions, and mind with the perennial wisdom of Yoga and Ayurveda.
WHEN: 3 Tuesdays, January 23, 30 and February 6, 2024
TIME: 4:30-7:30pm daily (US Central)
COST: $200 ($225 after Dec 23)
CEs for RYTs: 9
SIGN UP
Self-Care Series: Beautify Details
3 part series description
These simple-to-do practices, easy-to-prepare recipes, efficient-to-apply remedies are a treasure that has been passed to me by my grandmother, mother, and Yoga and Ayurveda Gurus. Learn how to live the Yoga of Self-Care to live a life of health, purpose, and abundance.
Beauty is the heart's longing to experience and share pleasantness. From everlasting beauty to inner beauty to beauty of healthy radiant skin, there are several kinds of beauty. And we can achieve it all. Once we understand the true concept of beauty, everything changes, from the food we eat, the beauty concoctions we make, the practices we do, and what we apply on our body, hair, and skin. Learn my favorite beauty hacks and recipes and dive deep into the philosophical depths of beauty with Patanjali Yoga Sutra, Saundarya Lahari, and Ayurveda.
January 23: Hair Care Essentials
January 30: Skin Care Essentials
February 6: Inner Beauty, Emotions, and Sacred Texts
Takeaways:
What is Yoga of Self Care?
What are 3 types of beauty as per Ayurveda
True Beauty according to Patanjali Yoga Sutras
Pranayama for dawn and dusk
Technique to deepen sleep through six-zone relaxation
Indu's favorite Ayurvedic Recipes, remedies, and apothecary for haircare, body, and skin.
Worksheets to assimilate the theory
Yoga Practice Log Chart
9 CEUs through Yoga Alliance
Course Objectives:
Learn the definition of beauty and its types as per texts
Understand the 3 pillars of health in Ayurveda
Learn how to log everyday practices
Learn how to improve the health of the 5 sensory organs
Learn how to prepare beauty recipes for hairs, skin and body.
BONUS TAKEAWAYS
Shreem Meditation for beautiful mind
Self-Care Workbook to track your progress
Required Books and Tools
Recommend Books and Tools for Dinacharya (Self-Care Morning Ritual)
Replay/Recordings
Recording Access: for 1 month following
Who is This Immersion For?:
Anyone! Yoga teachers, yoga therapists, AND dedicated students. Come with an open mind and be prepared to start and/or see your beautification in a completely different way!
Cancellation & Registration Policy:
No refunds. Registration is non-refundable and non-transferable. Cancellations received 14 days prior to the start of the session will receive studio credit less $90. Cancellations received within 14 days of the session start date will receive no credit.
Policies for ALL Students:
• Cancellation must be received by Devanadi by phone or email
• Fees, once paid, can neither be refunded nor transferred
• No verbal commitments will hold your spot.
SIGN UP