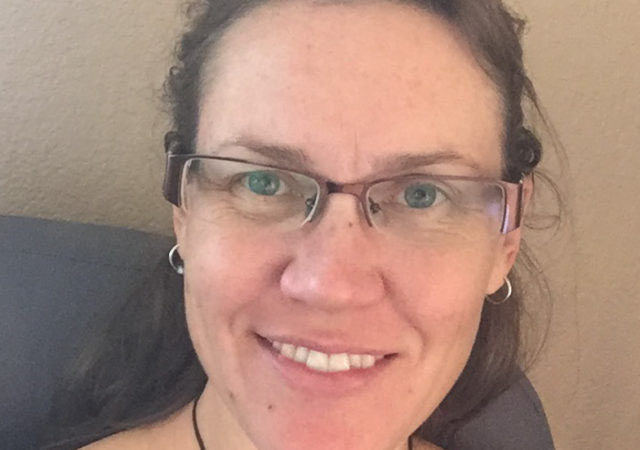 Jenn Posterick is a Thai Yoga Bodyworker, massage therapist, yoga and massage teacher, and writer.
Jenn's interest in optimized wellness began long before she became a massage therapist. She spent many years caring for top-level equine athletes, traveling with and managing the fitness, nutrition, soundness, and overall wellness of show jumpers and three-day event horses. From this experience she learned the importance of working as a team, and continues to enjoy collaborating with other top wellness professionals in her work with human clients.
Jenn's Training & Accreditation
Jenn first explored Thai Yoga Bodywork at Devanadi as part of her yoga journey. It was instantly a passion, and she began practicing in 2006.
Her passion for and commitment to Thai Yoga Bodywork inspired her to become a massage teacher, and she is grateful to have spent a number of years teaching at massage schools. She currently teaches massage at a college in Colorado and also independently offers workshops on a variety of yoga and massage topics.
She attributes her own professional philosophy to lessons shared by both traditional Thai medicine and Tantric Hatha Yoga: heal the self, trust the self, let go of fear and doubt, and we can offer our truest intentions to others for their healing and wellbeing.
Her work is built on a deep foundation in Thai Yoga Bodywork and western deep tissue massage techniques. To these she subtly weaves in energy balancing techniques, healing touch, Reiki, Ayurveda, and traditional Thai medicine modalities such as herbal compress and tok sen. Sessions can be on the massage table, floor futon, or a combination of both, and often involve Jenn creating specialized homework exercises based on her movement training.
Jenn is an experienced registered yoga teacher, and teaches using methods from the tantric hatha tradition as well as from ruesri dat ton, a gentle movement practice that is part of traditional Thai medicine.
Bodywork Study
Studied TYB beginning in February 2006, received Certificate of Completion for Thai Yoga Bodywork Practitioner Training in January 2011
Ergonomics and Breathwork in Nuad Boran course with Bob Haddad, 2006
Herbal Compress course with Bob Haddad, 2010
Tradition Thai Acupressure for Orthopedic Pain with Noam Tyroler, 2011
Denver Integrative Massage School Advanced Thai training, 2011
Reiki levels 1 & 2 at Devanadi, 2010 & 2011
DIMS 600 hour massage therapy program, 2012
Certified Manual Lymph Drainage Therapist, Klose Training, 2021
Continuing education certificates, including hot stone therapy, prenatal massage, and additional movement therapies.
Thailand study:
Homprang: rasiditon, herbal compress, and tok sen, 2010
Pichest Boonthamme: Thai bodywork in 2010 and 2016
Tok Sen therapy at Pichest's school in 2016 (with Leela Monthip)
Yoga Study
ParaYoga 500 hour TT certificate earned in 2017
Other Crednetials & Study
TESOL certificate, 2020
Post secondary teaching certificate, Colorado, 2021
Experienced Registered Yoga Teacher and Yoga Alliance Continuing Education Provider
Registered Thai Therapist, Advanced
Licensed Massage Therapist
Certified Manual Lymph Drainage Therapist
Jenn's Classes, Workshops & Trainings