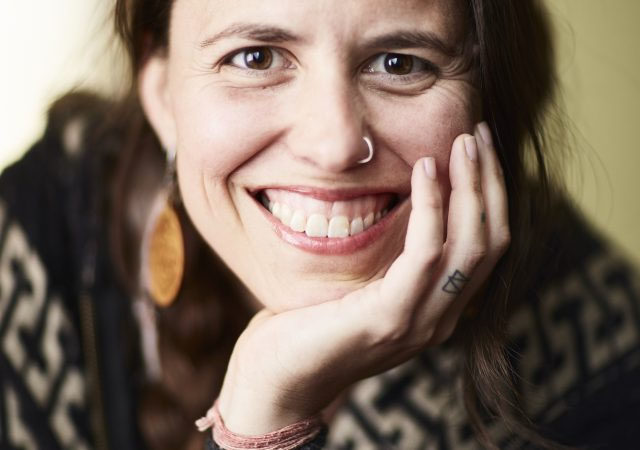 Chanti Tacoronte Perez's passion is to inspire students to rediscover their creative self through personal inquiry, effortlessness, ritual, sangha and sadhana.
Chanti is a Cuban-American creatrix, ritualist, and author, and believes that images speak a profound language. Her life's work is a translator of the unseen and advocate for the imaginal.
Yoga Trainings and Certifications Background
Chanti holds a Masters in Engaged Humanities, a Masters in Depth Psychology from Pacifica Graduate Institute, and is currently working on her doctoral dissertation in Jungian Depth Psychology and Archetypal Studies program at the same institution. In her work and teaching, she centers imagination, creativity, and deep rest.
Chanti teaches workshops, and collaborative training focused on yoga philosophy, women's health, the Goddess, creativity, dreaming, intuitive movement, and yoga nidra. Her passion is to inspire you to rediscover your creative self by weaving the blessings with the wounds while honoring the land and the ancestors.
Chanti is the creator of the Yantra Wisdom Divination Deck, which aims at shifting perspective, engaging intuition and receiving clarity, and author of Likhita Japa: Sacred Writing as Spiritual Practice. Chanti leads Yantra painting immersions, restorative trainings, mentorship programs and is co-teaching in numerous teacher trainings across the country. Chanti has designed online courses with Where is My Guru and was the writer for The Four Desires virtual book club on Elephant Journal.
She has also studied Restorative Yoga extensively and the practical applications of yoga therapy with Judith Lasater. She is grateful to have studied the art of yantras with Pieter Weltevrede and Mavis Gewant. She tries to travel to India yearly, where she am re-inspired to share these teachings.
Learn more at yantrawisdom.com.
Chanti's Classes, Trainings, & Workshops