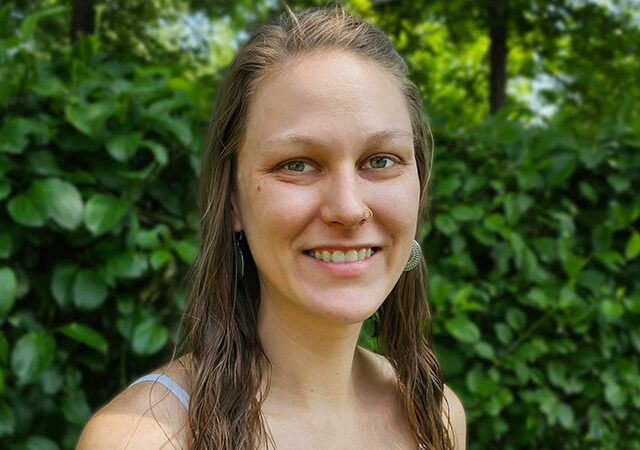 Caroline McGuire is a Fargo-Moorhead based Yoga Instructor and Certified Prenatal Yoga Instructor.
Caroline teaches in Devanadi's 235hr Fargo area Yoga Teacher Trainings. Her teachings reflect a blend of traditional Hatha Yoga and Tantra Yoga. Both ideologies are similar paths that lead to the same goal. An understanding of Patanjali's 8 Limbs of Yoga can serve as a solid foundation for a comprehensive practice.
Yoga Trainings and Certifications Background
Caroline has been practicing Yoga for a decade and teaching since 2018. She received her 235-hr teacher training from Devanadi School of Yoga and Wellness in 2018 and completed her 85-hour prenatal teacher training from Blooma in 2019, both located in Minneapolis, MN. Since then, Caroline has differentiated her teachings across many studios, fitness centers, and healthcare organizations in the Fargo-Moorhead area.
Caroline dove into studying Ayurveda shortly after graduating from Devanadi, where the Yoga teacher curriculum was married with this ancient Indian healthcare system. She was amazed at how much Ayurveda "just made sense" and how easy it was to integrate into her life. Caroline has continued her commitment to Yoga and Ayurveda routines through her own journey of pregnancy, postpartum and motherhood in the past few years.
Presently, Caroline teaches regular Yoga classes at the YMCA of Cass & Clay Counties, Family Wellness, YUJ Yoga and out of her home studio in Fargo, deemed "The Yoga Room." The education that she provides honors the cultural foundations of the teaching and challenges her students to transform their practice by observing healthy alignment.
Learn more about Caroline at: www.cjmyoga.com
Caroline's Classes, Trainings, & Workshops