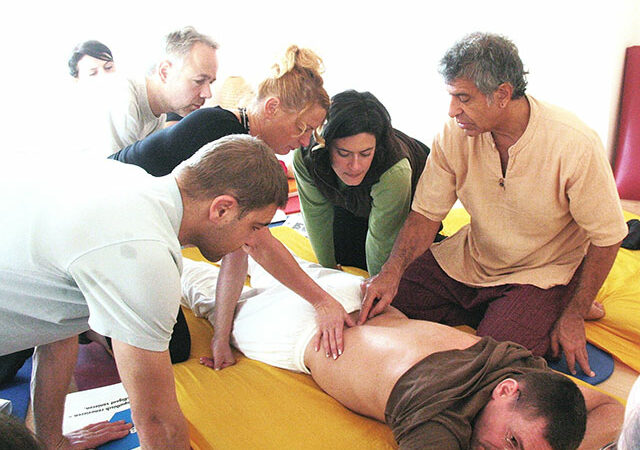 Thai Massage: Assessment, Sensing, Flow and Intuition
This workshop is approved by NCBTMB (USA) and Thai Healing Alliance (THAI) for continuing education credit, and a certificate is awarded upon completion. Bob Haddad has studied Thai massage in Thailand and elsewhere since 1999. He founded Thai Healing Alliance International, is author of two important books on the topic, and he teaches advanced courses and workshops around the world.
Join us this summer in Minneapolis for a course that can change the way you practice massage and bodywork !
THAI MASSAGE: Assessment, Sensing, Flow & Intuition
with Bob Haddad, RTT
Dates: Fri-Sun, July 21-23, 2023
Time: 9-4:30pm daily
Cost: $425 ($475 after May 21)
Location: Devanadi Yoga – 4401 Upton Ave S, MPLS, MN 55410
CEs: 20 with NCBTMB and THAI
Please read our Cancellation Policy below before registering.
Pre-requisite: At least 90 hours of previous study and considerable practice are required
SIGN UP
Details & Description
TRAINING Description
This specialized course deals with advanced techniques and concepts. A variety of study modules focus on the following themes:
How to assess your clients through visual inspection, touch validation, traditional Thai element theory, and body language
Practice ways to cultivate graceful flow from one technique to another
Learn and practice new techniques for upper and lower body, with special emphasis on using intuition, breath awareness and good body mechanics
Use distraction techniques and transitional movements to help relax your clients
Learn and practice sensing techniques to dissipate energy blockages
Incorporate resting poses into your sequences…and much more.
Each day there is discussion, demonstration and practice. Students give and receive sessions, and the teacher guides and encourages you to organically integrate the new concepts and techniques into your own Thai massage styles and sequences.
This is a unique and challenging course that will help you to work on the mat in a deeper, more spiritual, and more focused way.
WHo is the training for?
FOR: Thai Yoga Bodywork Therapists, Massage Therapists, or anyone seeking to learn a deeply healing and restoring therapeutic therapy rooted in the Thai healing tradition, register now!
Recommended Books by Bob Haddad
What to bring:
Thai Massage futon
sheets
pillow
any other props you like to use
Cancellation Policy
No refunds. This training requires 2 weeks notice of cancellation by phone or email. You will receive a studio credit, less $100 cancellation fee per registration. If cancel within 2 weeks, your payment is forfeited, and no studio credit will be given. No shows will receive no credit.