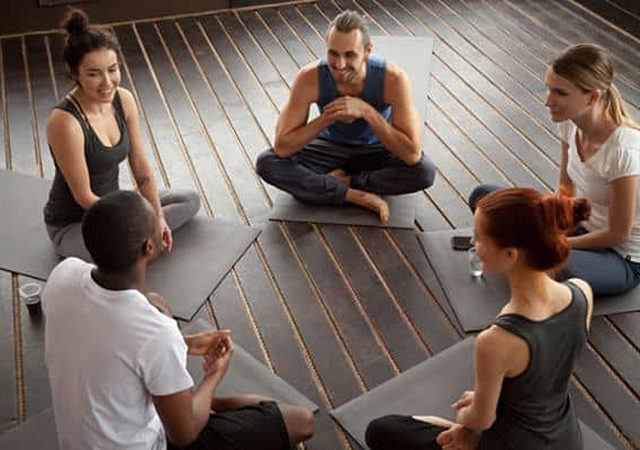 HUDSON, WI 235hr Yoga Teacher Training Programs
Study Devanadi's 200 hour (RYT 200) Yoga Teacher Training in a holistic, supportive environment in person in HUDSON, WI or virtually on ZOOM.
Learn to teach yoga beyond just the poses! Our exceptional teachers share their love of traditional Tantric Hatha & Vinyasa Yoga, Ayurveda, Yoga Therapy, and Energy Medicine. Be part of an abundant community that encourages personal growth, health, and well-being. Our 235 hour yoga intensive program goes beyond the required 200 hours needed for Yoga Alliance registration at the RYT 200 hour level.
REGISTRATION STILL OPEN ~ 8 spots left!
Early Bird Discount: SAVE $300 if you apply by Dec 15!
Training Assistants Needed: FULL – Get up to $500 off tuition for light TA duties including room set-up/take down, and ZOOM support
Apply Now!
• Scroll down to see all Program Details
• Fill out our Form to Request our 235hr HUDSON Application & Catalog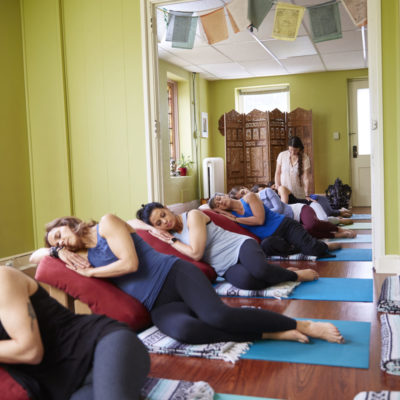 The Devanadi Yoga 235 hr Teacher Training was truly a life changing experience. The schools simplistic philosophy made the experience of study fun. relaxing and relative. I came away with a deeper sense of understanding history, philosophical purpose and a motivation to share those teachings encouraging others to move inward.
- a recent 235hr Hudson TT grad
HUDSON, WI Yoga Teacher Training Program
JANUARY – SEPTEMBER 2023
REGISTRATION NOW OPEN!
Early Bird Discount: SAVE $300 if you apply by Dec 15!
Training Assistants Needed: FULL – Get up to $500 off tuition for light TA duties including room set-up/take down, and ZOOM support
---
Program details
SATELLITE LOCATION: Inspiring Actions – 1370 Hosford St, Hudson, WI 54016

FORMAT: LIVE+ LIVESTREAM Hybrid option
SCHEDULE: 9 month program in 3 parts – all times CENTRAL US
1) ONE SUNDAY a month, 8am-6pm on: Jan 22, Feb 26, March 12, April 23, May 21, June 11, July 16, Aug 13
+ Yoga In Action Workshop: Sat, Feb 18, 3-6pm CST on ZOOM
2) TWO MONDAY Evenings a month, 5-9pm on: Jan 30, Feb 13, Feb 27, Mar 13, Mar 27, Apr 10, Apr 24, May 8, May 22, June 5, June 19, July 10, July 24, Aug 7, Aug 21
3) TWO FULL WEEKENDS – Fri 6-9pm, Sat/Sun: 8am–6pm
1) July 28-30, 2023 – Guest Teacher Weekend: Experiential Anatomy, Prenatal, Sanskrit – located at Devanadi Yoga – 4401 Upton S, Minneapolis, MN 55410
2) Sept 8-10, 2023 – Graduation weekend at Inspiring Actions
---
Please contact us by filling out the form below and selecting "HUDSON" as your location choice. We will email you a link to our HUDSON Student Catalog and online application.
Scroll down for Program description, cost details, etc
Apply Now! Request Application & Catalog Today
Fill out the form on the right to to receive an email with our 235hr FARGO Application and a link to our Student Handbook & Catalog PDF (required to read to apply – includes book list, cancellation policy, teacher bios, etc).
Once you submit your completed Application and Signed Contract Pages, you will be notified on how to pay your $500 deposit online to hold your spot, or you may mail in a check for the $500 deposit or payment in full to Devanadi Yoga – 4401 Upton Ave S, MPLS, MN 55410.
Applicants will be notified of acceptance via email or phone.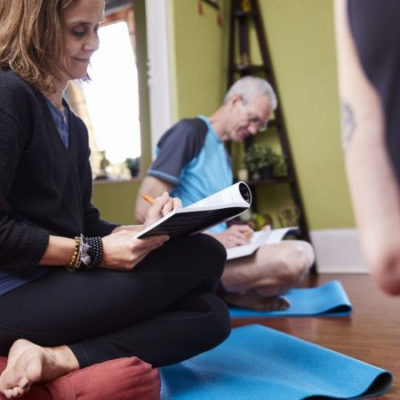 I researched several teaching programs and Devanadi was the clear winner if you want to learn all 8 limbs or yoga and a yogic lifestyle. What I received was way beyond what I expected. Being older (57) and a little out of shape, I was concerned whether it would be too hard for me, but it was just what I needed – body, mind and Spirit. I feel like I am on a path personally and professionally that aligns with my values and passions. The entire Devanadi staff emulate purpose and passion in everything that they do and teach!
-Abby G.
About This Training Program
Program Topics:
Our 235hr Yoga Teacher Training and Intensive teaches a synthesis of yoga styles with an emphasis on asana, bandha, mudra, pranayama, and meditation, as well as a rich study of yoga philosophy, history and lineage.
The faculty teachers have studied in depth in the traditions of Tantric Hatha Yoga, ParaYoga, Ashtanga, Vinyasa Flow, Iyengar, Sri Vidya, Ayurveda, and energy medicine, as well as a variety of meditation styles.
Learning a core curriculum of asana practice, technique, and sequencing to create a vast variety of classes based on the style of teaching appropriate to you and your students including: Tantric Hatha Yoga, Vinyasa Flow, Ashtanga, Iyengar, Restorative, Yoga Nidra, AcroYoga, Pranayama, Meditation, etc.
Sequencing Shakti/Vinyasa Krama – sequencing based on Tantric Hatha yoga principles, intention and directing prana in a specific way to create balance and well being
The study of Ayurveda – doshas, vayus, gunas and more to help craft the most healing practices for you and your students
Yoga as Skill in Action: Social justice and yoga as activism, community service, karma yoga and the role yoga can play in improving our world and social communities
The study of the bandhas, mudras and marma points
The study of Energy Medicine including energetic anatomy, chakras, nadis, koshas, biofield as well as basic healing techniques
Basic Sanskrit, alphabet, yoga pose naming, and pronounciation
The study of the use of Thai Yoga Bodywork in adjustments for yoga postures, as well as therapeutic healing and acupressure
Pranayama and meditation techniques to use in practice and in teaching
Yoga Nidra, restorative yoga and rest practices, and daily self care routines
Mantra, chanting, invocation and japa practiceClassical vs. Tantric (Hatha) Yoga philosophy
Community service (SEVA) and karma yoga
Working with special populations, injuries, props, prenatal students, etc.
Anatomy and physiology as it applies to yoga asana
Holistic Nutrition on the path of yoga, how to eat and/or cleanse as a yogi
The Power of Intention – Sankalpa and intro to Dharma Shakti: Empowered Purpose
Teaching methodology and philosophy
Yoga ethics
Mentoring on ways to apply the fruits of their personal practice to committed social action
The business of yoga including marketing and branding yourself as a yoga teacher
Teaching yoga in the digital age – using technology as an asset
Traditional texts such as the Yoga Sutra are also featured in our training as well as several others
+ BONUS ESSENTIALS:
Complimentary monthly classes & events for continued practice
Sangha (Community) Events with Devanadi Faculty teachers

Access to Online Office Hours with Devanadi Faculty
The program is a registered school with Yoga Alliance. Upon completion of the program students will receive a Certificate of Completion and can apply for registration with Yoga Alliance as a Registered Yoga Teacher at the 200-hour level (RYT 200).
Prerequisite:
12 months of being a yoga student at any yoga studio or program.
Further Study:
Devanadi Yoga's 340hr Advanced Yoga Teacher Training & Intensive to complete their RYT 500 hour credentials.
Cost Info:
Save $300 off the Regular Price if you enroll by our early bird dates listed below.
For Payments In Full:
Early Bird*: $3100; pay your $500 deposit to hold your spot, then pay in full by the start date of the program
Regular Price: $3400; pay your $500 deposit to hold your spot, then pay in full by the start date of the program

Payment Plan Prices:
Early Bird*: $3300; pay your $500 deposit to hold your spot, then 5 payments of $500 due 1st of the month months 1-5 + 1 payment of $300 month 6
Regular Price: $3600; pay your $500 deposit to hold your spot, then 6 payments of $500 due 1st of the month months 1-6 + 1 payment of $100 month 7
ALL CHECK or CASH payments will receive a FREE BOOK Moving Inward by Rolf Sovik, required to read in our 235hr, or credit in the Devanadi Retail Store if you already own it (required for 235hr TT).
Discounts:

*Early Bird Discount: Receive this pricing if you apply by the early bird date noted in each program option.
2023 HUDSON Winter Weekend Program: Dec 15, 2022
Training Assistant (TA) Discounts: We are also in need of TAs for all of our upcoming programs. If you have admin, tech and/or organizational skills, you may apply for a discount ($250-500 off tuition) in exchange for TA duties.
Full Time Student Discount: Also if you are a full time student or have graduated within 6 months of the start of the program you are applying for, submit a transcript with you app, and you will automatically get $500 off tuition.
TA Discount: Help Devanadi with light tasks throughout the training in exchange for up to $500 off tuition.
UNITY Scholarship: A limited number of partial scholarships are designated for each training for up to $250-500 off. These scholarships are intended to increase access to yoga by populations often underrepresented in the yoga community, including: BIPOC, LGBTQAI+ individuals, individuals with a demonstrated financial barrier, and others. Apply Here
**All discount info is listed in detail in our Student Catalog. Fill out the form below to receive our application materials.
Questions?
Fill out the form below to receive our Application and Student Handbook/Catalog. Please include which location(s) you are interested in as we have different Catalogs for the different locations.
Accreditation
This 235 hour program is a Registered School (RYS 200) with Yoga Alliance and preps you for the requirements needed for students to register with Yoga Alliance as a 200 hour Yoga Alliance instructor (RYT 200). Upon completion of the program students will be certified as a 200hr level yoga teacher through Devanadi, and receive a Certificate of Completion. If you also want to become a registered member of Yoga Alliance, you will be able to join immediately if you like. Check with Yoga Alliance for all details as they are an independent organization outside of Devanadi. We are also registered with DEED in MN, as well as a licensed school with the State of MN. See below.
Disclosure Statement: MN STATUTE 141.28: Sub. 1.
Thai Yoga Bodywork dba Devanadi Yoga is licensed as a private career school with the Minnesota Office of Higher Education pursuant to Minnesota Statutes, sections 136A.821 to 136A.832. Licensure is not an endorsement of the institution. Credits earned at the institution may not transfer to all other institutions.
BONUSES FOR ALL 235hr STUDENTS:
Beautiful 3-part manual with workshop materials, practices, asanas and more!
ALL trainings are recorded: Livetime access to recordings of all training content!
10% off all retail in our Devanadi store
Discounts for life on select guest teachers, trainings and other events
Immediate access to register as an RYT 200 with Yoga Alliance upon graduation as we are an RYS (Registered Yoga School)
Discounts on BeYogi liability insurance, YogaInternational.com membership, business building tools and more
Free consultation with the team from SitesForYogis.com for marketing/branding ideas
Being part of an amazing sangha (community) that supports you and offers you a place to be your best self!
"The lessons I learned in this program are ones that I will always apply to my life going forward and I am forever grateful for this knowledge. Ayurveda has quite possibly been my favorite part of the entire training and so being able to apply this and use it in my everyday life has been wonderful."
-Molly F.