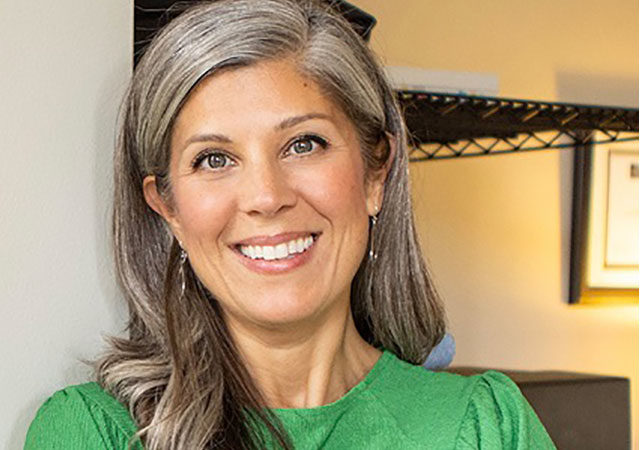 Jen is a Certified Yoga Therapist (C-IAYT) with over 23 years of experience practicing and studying yoga. She specializes in working with clients who want to use yoga therapy to support their mental health. 
She is a devoted student in the Viniyoga lineage, which is steeped in ancient tradition and focuses on using yoga therapeutically to address her students' unique needs and goals.
Yoga Trainings and Certifications Background
She has worked with a Yoga Therapist for years to support her own mental and physical health and continues to work under the guidance of her mentor, Anita Claney. Viniyoga is sometimes called a 'living lineage', which means every practitioner works under the guidance of a senior practitioner. This model allows practitioners to continue to be both a student and a guide for others, giving everyone a richer experience.
Jen has struggled with the physical and emotional effects of anxiety since she was a teenager. Her anxiety manifested as digestive issues, headaches, disturbed sleep and frequent nightmares. These patterns continued into adulthood and she ultimately developed Ulcerative Colitis, a chronic disease of the large intestines. Yoga Therapy has helped her successfully manage her anxiety and IBD. Her Ulcerative Colitis has been in remission for over a year and her anxiety is well managed with healthier lifestyle choices, some western medicine, and daily yoga practice. She particularly enjoys supporting clients who are struggling with anxiety, chronic conditions, and digestive issues.
For more information visit www.bodyandmindyogatherapy.com
2015 | Judith Lasater – Relax + Renew Restorative Yoga Teacher Training Assistant (Chicago)

2014 | Judith Lasater – Relax + Renew Restorative Yoga Teacher Training

2012-13 | Yoga Center of Minneapolis and Green Lotus Yoga – Yin Yoga Certification

2012 – 2015 | Yoga Calm – Yoga Calm® Youth Instructor, Resident Teacher, Level 4 Certification

2011 | Yoga Center of Minneapolis – 230 Hour Yoga Teacher Training

2021 – 2025 | Yoga Well Institute – Assistant Faculty, Yoga Therapist Training, Berkeley, CA

2020 | International Association of Yoga Therapists – Certified Yoga Therapist (C-IAYT)

2020 | Devanadi – Yoga Therapy for Anxiety and Depression w/Gary Kraftsow

 

2016 – 2020 | Yoga Well Institute – 1,000 Hour IAYT Yoga Therapist Training

2019 | Himalayan Institute – Ayurvedic Yoga Specialist (AYS)

2016 | Yoga North International SomaYoga Institute – 500 Hour Yoga Teacher Training
Jen's Classes, Workshops & Trainings